Introduction
The Demoman is a scrumpy-swilling demolitions expert from the Scottish town of Ullapool, and is one of the most versatile members of the team. Armed with his Grenade Launcher and Stickybomb Launcher, the Demoman uses his one good eye and the knowledge of his surrounding environment for well-timed sticky bomb detonations that send enemies to the Moon, often in many pieces.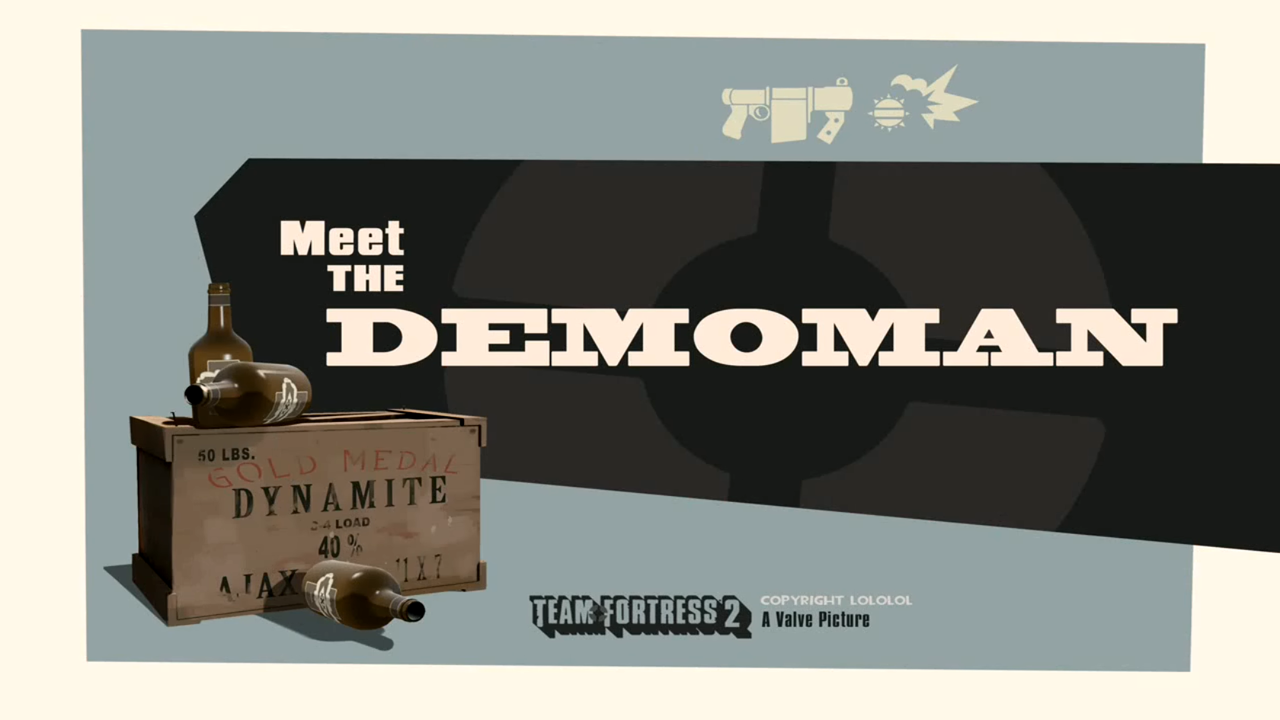 Basic Info
Demoman is extremly deadly with his explosives. But
vanilla
Demoman shows his weaknesses mostly at close range. Demoman is also considered as the very
generally
class and probably the best Sentry gun counter. Even the Demo is vulnerable against close range fights, there's a very specific
subclass
called
Demoknight
.
Let's get quickly over the Demo's stats:
Heads collected
150; 165; 180; 195; 210
225; 245; 270; 290; 315
Boots + Heads collected
175; 190; 205; 220; 235
260; 285; 305; 330; 350
Condition
Normal
Backwards
Crouched
Underwater
Boots + Shield
103%
92%
34%
82%
Heads collected
93%; 101%; 108%; 116%; 123%
84%; 91%; 97%; 104%; 111%
31%; 34%; 36%; 39%; 41%
75%; 81%; 87%; 93%; 99%
Scotsman's Skullcutter equipped
79%
71%
26%
63%
Charging with shield
250%
N/A
N/A
200%
Demoman's Role
When it comes to roles, Demoman is often picked for
defense
. But like Soldier, Demo is very good
versitile combat class
, which allows him to also attack. I'd like to separate the ins and outs into diffrent categories…
General Role:
Defense
Combat class
Sentry counter
Attacks:
Slow and projectile based explosives
Splash damage
Melee oriented
Combat range:
Midrange
Close range (Demoknight)
Indirect
Strength:
Choke points
Enclosed spaces
Grouped enemies
Weakness:
Open areas
Fast or far enemies
Close range (vanilla Demoman)
Common class victims:
Heavy
Engineer (and buildings)
Medic
Common class nemesis:
Primary Weapons
Grenade Launcher

Most common primary which can wreak all kinds of havoc on enemy players, especially with good aim. It's ability to punish enemies without ever exposing oneself, can make you a highly dangerous opponent. Unlike a lot of Team Fortress 2 weapons, Demoman weapons like this launcher do not have damage falloff, so grenades do the same damage no matter where you are.
It's grenades explodes on direct hit or they bounce off walls. Try to use your primary first and then switch to your Stickybomb Launcher.
Iron Bomber

Grenades have very little bounce and roll
Grenades explode 30% faster
-15% explosion radius
Unlike stock Grenade Launcher, the Iron Bomber has diffrent pipes which doesn't bounce off. This can be used to "grenade jumping". It's less practical than the sticky jumping but it can help.
The weapon allows you to more accurately place your pipes where you want. See an area you certainly want your pipes to stick to? Pull this weapon out. It isn't too much different from the stock Grenade Launcher aside from this.
Loch-n-Load

20% more damage vs buildings
Has 25% faster grenade travel speed
Grenades do not tumble when fired
Less clip size and explosive radius
Projectiles are destroyed when touching the surface
The fact that this launcher has bombs that don't stick around to detonate, exposes you to direct combat. The faster grenades make it easier to aim though. The increased damage against buidings allows you to destry level 3 Sentry with only 2 pipes. I've never seen anyone said: "Dammit there's a Sentry nest, better use Loch-n-Load."
You will usually use your Stickies to destroy a nest instead of this weapon.
Loose Cannon

Cannonballs have a fuse time of 1 second
Cannonballs push players back on impact
Allows to get Double-Donks
Cannonballs do not explode on impact.
Very fun weapon to play with. Your Grenade Launcher has been replaced with a small cannon which fires deadly cannonballs. If a cannonball deals both impact and explosive damage to an enemy within half a second, explosive damage will be a mini-crit. This feature is knows as a Double-Donk.
You can also control, when your cannonballs will explode by holding right-click.
Boots and B.A.S.E Jumper
These fabulous shoes are not all helpful in most situations. They give 25 more health and allow turning to be easier during shield charges. I would say go pick up your primary launchers. The shoes can be a lot of fun though, especially when playing pure Demoknight.
B.A.S.E Jumper on the other hand, isn't very effective, maybe if you want to jump with Ullapool Caber or spam areas with stickies from above.
Secondary Weapons
Stickybomb Launcher

Stickybomb Launcher can hold 8 sticky bombs in a clip. Each sticky can be detonated after firing with alt-fire button. You can also hold the left mouse to charge the sticky bomb and launch it farther. What is so special about this weapon is that you can set traps, help yourself in a picky situation or tear your enemies apart. You can have up to 8 stickies on a battlefield and you can detonate them all at once. Make sure you have always loaded beacuse if you happen to run out of ammo in your primary, you will rely on the Stickybomb Launcher which – with no stickies left in a clip – would make you vulnerable.
Scottish Resistance

Alt-Fire makes all armed stickybombs under the crosshair explode at once
Can destroy enemy stickies
+6 more stickybombs out at once (max is 14)
+25% faster firing speed
Stickybombs have 0.8 second longer priming time
Definetly a good option when defending multiple choke points, objectives or multiple gateways. The longer priming time makes the stickies less spamable. Scottish Resistance's ability to destroy enemy stickies can be an advantage when fighting other Demoman. You can detonate few stickies without detonating all of them at once!
Quickiebomb Launcher

-0.2 sec faster bomb arm time
Able to destroy enemy stickybombs
Max charge time decreased by 70%
Up to +35% damage based on charge
-15% damage penalty and -50% clip size
Quickiebomb Launcher is about sniping individual enemy from a longer range. Definetly isn't meant to be the core of demolition. But if used wisely, Quickiebomb Launcher can really mess up with weaker classes while the primary Grenade Launcher can take out the powerful ones.
Stickybomb Jumper

Max 2 stickes at once
Cannot carry Intelligence
Zero damage
Unlike the Rocket Jumper, the Stickybomb Jumper can be a very powerful combination with Grenade Launcher or even the Loose Cannon. Something that's called "Hybrid Demoman". More often than not, you'll use 1 sticky to jump, learning how to "pogo" is good to mention for certain rollouts etc. For beginning, I'll recomend using the Stickybomb Jumper as a mobile escaping tool.
Shields will be covered in a certain chapter.
Melee Weapons
Bottle

Well balanced weapons; they have a decent critical hit chance, and they don't leave you more vulnerable at the start of your life like the head collecting melee weapon variants. This is a safe, and dependable melee weapon to have.
Eyelander

Collects heads which grants bonuses
Lowers maximum health by 25 points
Slower deploy and holster time
Common sword among Demoknights or hybrids. This cursed blade grants additional maximum health and movement speed for 1 head cutted (stacked up to 4 heads). Good to know that the Eyelander (and a few other melees) has longer range than the stock Bottle. Be careful using this with hybrid Demoman as you're starting only with 150 health.
Scotsman's Skullcutter

Deals 20% more damage
Slower deploy and holster time
Lowers speed by 15% when active
This weapon is a very dangerous melee weapon aside from the slower move speed. It has very powerful critical hits, and it can randomly crit. If you pair it with one of the shields, it can be great for killing people. I would recommend it mostly for ambush tactics. Otherwise, you are unlikely to catch a target.
Claidheamh Mòr

Melee kills refill 25% of your charge meter
0.5 sec increase in charge duration
+15% damage vulnerability while active
Slower deploy and holster time
From the stats, you can tell that this blade is meant to be used with shileds. There's no point using Claidheamh Mòr without them. The damage vulnerability however makes this weapon pretty weak compared to other swords.
Half Zatoichi

On kill: heals you 50% base health (can overheal)
Once drawn will be holstered for -50 HP unless it kills
Slower deploy and holster time
No random critical hits
This weapon is all about good timing, only take it out when you are going to kill someone or you have to sacrifice 50 HP in order to switch back. However, the Half Zatoichi shines with a boots and shields which eliminates it's biggest downside.
Keep an eye on the enemy wielding the same melee as he can kill you with a single blow. Same goes for you.
Persian Persuader

Ammo can recharge charge
On Hit: +20% charge refilled
-80% max primary & secondary ammo
Cannot refill ammo from ammo boxes unless charge meter is full
Slower deploy and holster time
At this point, you have probably understood that the most of the swords is meant to be used with shields. Same goes for Persian Persuader. A fun weapon and one of my favorites. It can be used to make charge availability return more quickly with any ammo.
Ulapool Caber

Hit triggers an explosion which damages user and enemies around
20% attack speed penalty
100% slower switch-to speed
Deals only melee damage if the head is destroyed
No. I really want to write any positive outcome for this weapon but it's just horrificly bad. TF developers nerfed the Ulapool Caber to the ground with no good reason. It hurts to say but use something else than this.
Pain Train

Increases user's capture rate by 1 for points and carts
Raises bullet vulnerability by 10%
This weapon has a double capture rate, which can be great for ninja capturing far points or just helping push through control points and payload carts. I wouldn't recommend it unless the situation calls for it. It is equal to all default melee weapons except for the bullet vulnerability increase.
Playstyles and Subclasses
Demoknight
We'll start with the well known subclass which trades a splash burst Demoman for a quickly flanking Demoknight. With boots and shield equipped, he can charge on enemies with his heavy sword.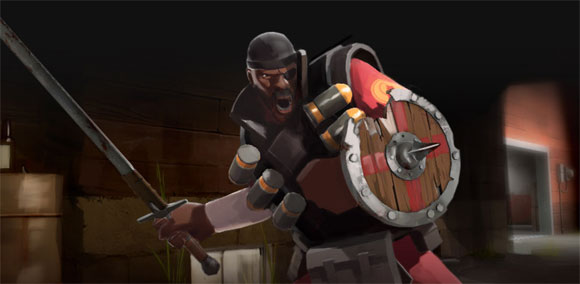 There's 3 types of Demoknight based on his melee choice:
Basic
Flanking playstyle. Doesn't have that much downsides to begin with.
Bottle
Scotsman's Skullcutter
Collector
Starts weaker but after collecting heads, he gets powerful. Stacked up to 4 heads.
Restore
Relies on his charge. After kill, he regenerates health or charge meter to get away.
Claidheamh Mòr
Half-Zatoichi
Persian Persuader
Charging shields are good for Demoknight. Let's take a look at each shield:


From all three shields, this will grant you the most resistances. Use this when you're using weapons which has vulnerability downsides


Splendid Screen allows you to charge more often and, with melee, dealing more damage. Use this with high damage weapons.


Little bit less of resistances but it gives you full turning control with charging. And if you get a melee kill, it refills your charge meter with 75%.
You can learm more about Demoknight in my guide Demoknight Guide.
Hybrid
The Hybrid Demoman is something between a Demoknight and vanilla Demoman. The main loadout is basically any primary except Boots, any shield and a sword (usually eyelander)
With the Hybrid you want to use your Grenade Launcher or even the Loose Cannon (which I prefer) to a grouped enemies and the sword with a shield to attacking the loners. Eyelander is acutally great at this, although you have only 150 HP, attacking the loners you can get stronger and then switch to the primary and bomb everything.
Jumper
Or often called pipe-only Demoman. Jumper always counts on his pipes or melee, with Stickybomb Jumper equipped, he can fly around the map and hitting directs without getting in a danger. Don't forget that you can again use the Loose Cannon or even Loch-n-Load if you want for whatever reason…




Advantages and Disadvantages
Advantage summary notes
Can attack groups of enemies at once, doing massive damage.
Can become more powerful through specific head collecting melee weapons.
Perfect pocket of Medic. With kritzkrieg, Demoman can wipe out an entire enemy team.
Great area denial class, can prevent enemies from capturing the objective.
Can shoot around corners to mess with positions.
Good aim with the Grenade Launcher variants can obliderate enemies.
Has a fire resistance with Chargin' Targe.
Can hold his own on a decent amount of situations.
Can use the Stickybomb Launcher or Sticky Jumper to explosive jump and move faster.
Planting sticky traps can surprise unaware enemies.
Disadvantage summary notes
Vanilla Demoman is weaker on short / close range.
You can hurt yourself with your weapons without being careful.
Picking up a lot of the different melee weapons can make you weaker when not used correctly.
Pyros can really mess you up while playing as Demoknight.
Pyros can reflect all of your ranged attacks and really hurt your team.
Pipe bombs from primary weapons can be tough to aim, especially at Scouts.
Scouts and Snipers are your worst nightmare in open spaces.
Reloading your Skickybomb Launcher is slow, be sure to have at least few stickies.
Sticky jumping takes a big chunk of you health.
End
AThank you so much for reading and I hope you learnt something new here. Don't forget to rate this guide and write a comment, I read all of them and they really cheer me up.
Do you like discussing TF2 related things and playing with good people? Join our communities: