What is a Demopan?
Someone may be asking what exactly is a Demopan?
A Demopan is a player playing as Demoman using a charging shield and frying pan. He is very similiar to Demoknight, except without the sword.
Here is a quick poster I made: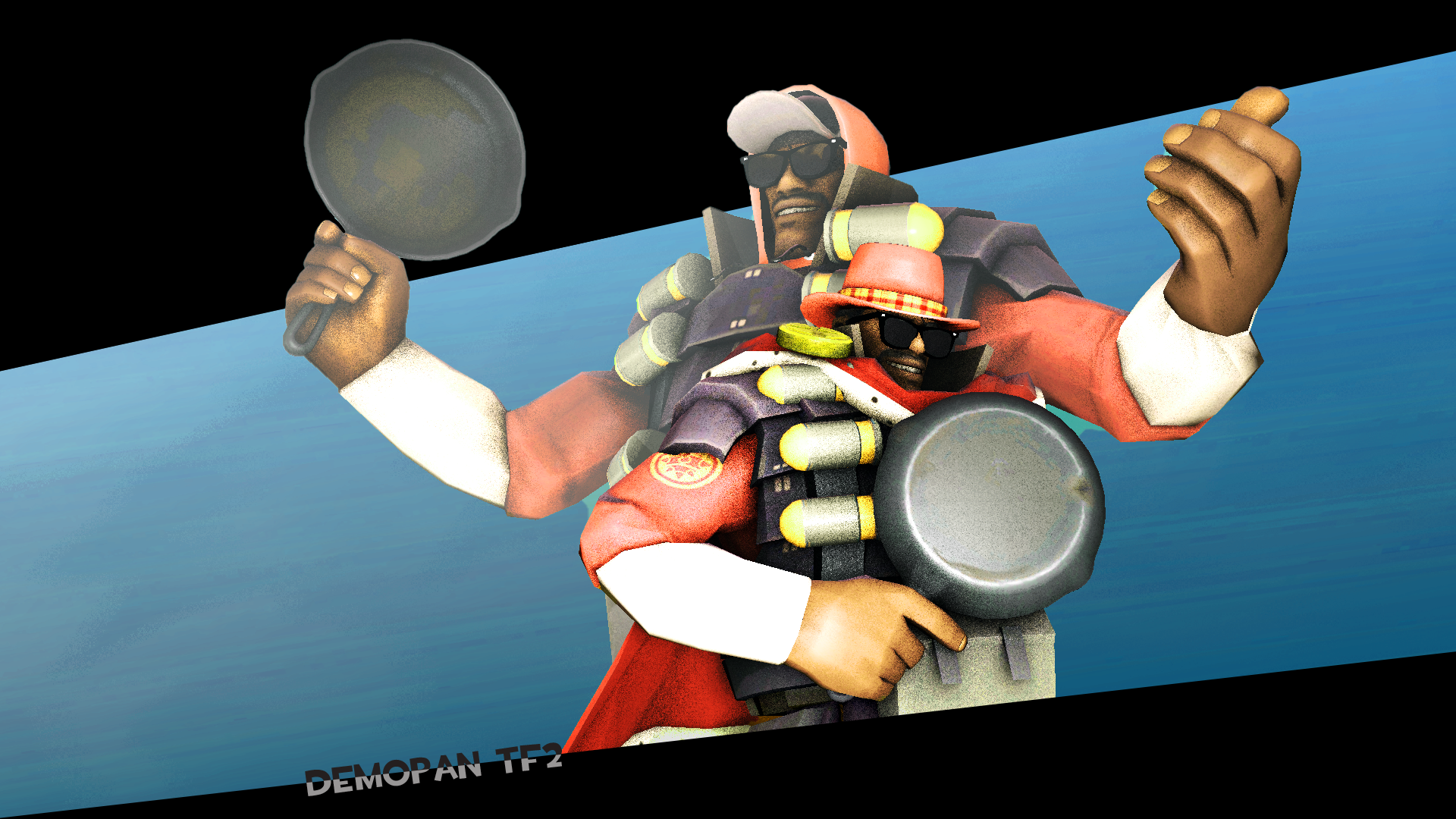 What is the point of playing Demopan?
You see, Demopan is the best sub-class in the game
Playing Demopan is guaranteed to be one of the most fun things you can do in TF2, The Frying Pan does critical hits almost all of the time
A Demopan can kill basically any class in around 1-3 swings of his Pan, which can be swung really fast.
That sounds great, how do I play Demopan?
Woah, hold your horses, buckaroo,
this will take some practice as anything in TF2 does. (except for playing pyro, dont do that btw)
1.) Acquire The Frying Pan
2.) Acquire either the Charging Targe, Splendid Screen or Tide Turner
3.) Acquire either the Alibaba's wee booties or Boot Legger
After you have acquired these very important items, equip them and get into a game.
Very Important Things to note
Listen up, the things below are very very important for upcoming future Demopans to read
1.) Your shield impact does INSANE damage
Using the shield to crash into your opponents and then giving them a big slap with the pan can eliminate almost anyone. A proper Splendid Screen impact can kill a Scout, Spy, Sniper or Engineer in ONE HIT
2.) Your shield impact deals more damage the longer you charge
When attempting to kill someone with your shield charge, you have to note how long you have been charging and how many meters you have traveled with your charge . If you have just now started charging and you have traveled like 2 meters and suddenly hit an enemy, the shield will only do around 50 damage, that is not good . You should always travel at least 5-10 meters with your shield to ensure high damage outputs.
3.) Your shield charge removes all negative effects
You surely do know, how annoying it is to be ignited by a Pyro, or start bleeding, because a Scout hit you with his cleaver or Weird Christmas Tree Balls(TM). Well, FEAR NOT , The Shield Charge is here! Whenever you get ignited or start bleeding, just use your charge and these effects will instantly go away! IT'S GENIUS
4.) Pyros are your worst enemy – Here is how to counter them
Pyros can easily use their airblast to push you back and ruin your day. I figured out a way to counter them. While charging towards a pyro, suddenly turn to your right, run around the pyro and smack him with your Frying Pan. ; I know this is a terrible explanation, but it will make sense to you when you learn Demopanning.
5.) Switch your shields accordingly
If the main person annoying you on the other team is a Pyro or a Heavy, use the Charging Targe. It partially protects you against those, which is enough to successfully eliminate both of them.
Otherwise, you should use the Splendid Screen or Tide Turner
The Splendid Screen
The Splendid Screen does INSANE impact damage, but only partially protects you against damage while charging . A Heavy can easily eliminate you with this shield before you get to them.
The Charging Targe
The Charging Targe protects against fire and explosions. Perfect against Pyros and Soldiers. If a Pyro or Soldier is bothering you use this.
Note: Thank you to the kind person, who pointed out, that I made a mistake with the Charging Targe's stats, I have now fixed it
The Tide Turner
This one is really good for really good demopans. I personally prefer the Splendid Screen combined with the wee booties, but this could work too. This shield grants you complete turning control while charging. You gain almost no damage resistance though, leaving you very vulnerable. This way a Scout can kill you before you get to them, if you are not careful enough
A really really important weapon you should use
The Alibaba's wee booties or Bootlegger
NOTE: The Alibaba's wee booties and Bootlegger are the same item with a different skin
The wee booties or bootlegger give you quarterly turn control, meaning you have 25% turning control while charging. They also give you extra resistances, speed and health.
This item can completely turn your gameplay on it's head, I recommend using this. It unfortunately takes away your primary weapon though, which means you will have to become FULLY DEMOPAN
Charge Jumping, Air Strafing and Accelerated power-strafing
VERY ADVANCED
Charge Jumping, Air Strafing and Accelerated power-strafing are really important things that will help you quickly escape and attack the enemy.
Here is a detailed explanation of how to do it:
Requirements: Either the Tide Turner or any shield combined with the wee booties. (second one not recommended)
Charge Jumping
1.) Find a flight of stairs or a ramp on any map. (preferably a staircase or ramp that is not inside, so you do not hit your head on the ceiling)
2.) Jump-crouch and in the middle of jump crouching, activate your charge and go up the stairs. You may not succeed on the first try . If done successfully, your Demopan will go flying into the air
Air Strafing
1.) Do everything as stated in previous "Charge Jumping" section.
2.) Hold CTRL while in mid-air and slowly pan your mouse to the side you want to fly to. Your Demopan will do a rotation (called a strafe) and go there
Accelerated power-strafing
This, of course, is not it's official name.
1.) Do everything as stated in "Charge Jumping" section.
2.) Hold CTRL in mid-air
3.) Start violently panning your mouse left and right really quickly, but not too much only a little. As if you were basically making infinity loops.
This technique should send you flying a really really large distance at an incredible speed
Use these techniques to your advantage in battles
For example: when getting chased by a Pyro, use the stairs to escape to the other side of the map combining Charge Jumping and Accelerated power-strafing.
The Best Technique to kill ANYONE
Over the time I have played as the legendary Demopan, I have discovered
the one and only technique to kill literally anyone
. It is fairly easy.
1.) Get effective distance [~2-3 meters]
2.) Use your shield's impact to deal at least 70 damage to them. (ALWAYS HIT YOUR TARGET WITH YOUR SHIELD BEFORE ATTACKING IF POSSIBLE)
3.) Strike the opponent with your Frying Pan.
By the second swing, they will most likely be dead and wondering what in the world just happened and why they died so quickly.
It always works
(except uber lmao)
Stout shako 2 ref
demodemopan demodemopan
Thank you for reading this guide
I, Honza368, personally thank you from the bottom of my heart for taking time out of your day to read my guide. I have spent around an hour writing it.
If it is not too much to ask, I would appreciate some feedback about the guide
Please slap it a like and maybe a comment.
Thank you very much
Have a nice day,
Honza368