Whats Rust?
is a survival game created by Facepunch Studios. Inspired by games like Minecraft, and other wilderness survival games. – Rust aims to create a hostile environment in which emergent gameplay can flourish. Rust is exclusively a multiplayer game which is a blend of PVP and survival. You play as a caveman trying to become the alpha male but your not alone. you must bulid your home, form your aliances, dominate your foes and be on top.
You must know
Wood pile will give you more wood than a tree so go for them instead of wasteing time.
The best animal to hunt at early stages is the big due to its slowness.
Big stone rocks can upgrade the rock to stone.
Stay away from bears and wolfs.
Stay away from players until you are well armed.
ways to start
The raider Rick
If you want to risk geting killed and or Marked as a enimy you could raid other peoples bases and make it out with tons of items to get to a easy start and a better advantageat become top dog. This doing a "Rick" is better with another allie but still hard to pull off. You will need to hunt for food if you are unlucky and dont find any in the raid.
The Calm Carl
This is one of the simple ways to get started and still be safe from the other players. you simply harvest trees, wood piles and rocks to get a simple shack with a camp fire, crafting bench and door. then after you have made a safe and sound base scavage the area for low or no rad areas to get supplys.
The Scavager steave
This play style is best used of servers that hav under 10 player at that moment you decide to join. the main objective is to rush to go to loot hotspots and rais them as fats as you can. this is risky if you dont hual ass when night arrivesDont be greedy go in and out fast!.
The Small base
You should only bulid a shack for the First Night. They are not a target so they are good for staying in for the night. build near a road so you dont get lost in the woods. do not bulid your base
on
a road it will be a target and will be raided.
http://rust.wikia.com/wiki/Wood_Shelter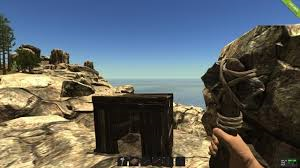 First Night Essentials
You will need
Campfire
wooden shelter
Crafting bench
Any sort of food
Thanks For Reading
I KNOW ITS A DRAG 😉