Very basic guide to getting started in Rust
Honestly the game is very easy, but also very frustrating. In a good way.
I just started playing it this past week. At first I was pretty annoyed and lost, didn't know what to do. Got really mad at getting killed over and over. Once you get over that initial annoyance and realize that death is not really a big deal, it goes much smoother.
Here's what *I* would do, in order, when starting a new server. (I stuck to official servers, Facepunch Seattle to be specific).
1: Get the hell away from where you spawned. Other newbies (Newmans) will try to kill you just because they have nothing to lose. So get away into a less populated area.
2: Use your starting rock to bash trees and stone "nodes" that you find. The stone "nodes" look like large round rocks, almost as tall as you. Something that would be 5'x5′ or so and they are a different color than the normal mountains.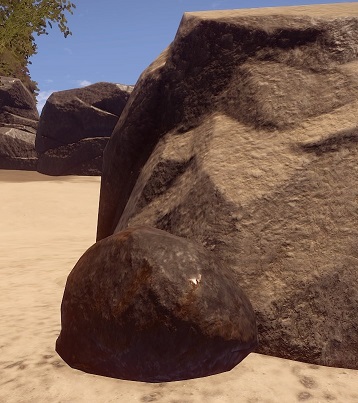 3: Collect enough wood and stone to make a hatchet, then enough to make a stone pickaxe.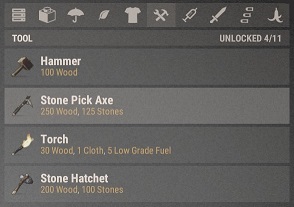 4: While running around "harvest" any Hemp Plants you see for 20 cloth each, also pick up any football sized rocks you see on the ground. Those are an instant +50 stone, metal ore, or sulphur ore.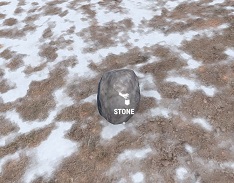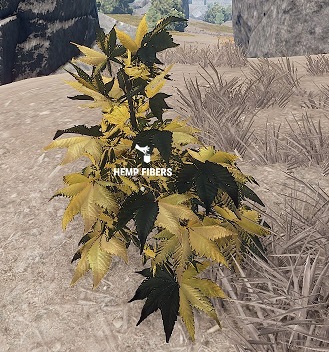 5: Once you have tools made, try to make a Hunting Bow and ~10-20 arrows. You can now defend yourself as well as harvest animals for food and other resources. Use it by putting it on your hotbar and right clicking to draw, and while holding right click (staying drawn) left click to release the arrow. It takes a bit of practice without any site/crosshair, but it's not bad. You may want to build a small campfire and cook some of the meat you've gotten from animals. Eating it raw will make you lose heath. Hunger and Thirst seem to take a long time to become an issue, just get them both about half way up the meter and you'll be fine for a long time.
6: Craft 5 Paper and make a Paper Map. This map has a sort of "fog of war." Meaning it clears out as you move around. It's lootable, and you will lose it. But it's handy to have for sure until you get really good at paying attention to landmarks. Use it by putting it on your hotbar and pushing G or M.
7: While you're wandering around, pay attention to landmarks and your little map. Hopefully by now you have some idea where you are by comparing your landmarks to a map (on an external website). Try to figure out where you'd like to build your first base.
8: Craft one paper and then craft a Building Plan. Use this by putting it on your hotbar and holding left click with it selected to choose different building components. All take wood initially (not much) to get your basic structure built. Start small, it costs a lot to upgrade a big structure, plus a big place draws attention from veteran players which may want to raid you or mess with you. You want them to ignore you!
9: Craft a sleeping bag! You can use these to "respawn" at so you don't have to run all the way back to wherever your house is. These can also be placed on the ground outside anyplace you want. Craft them in strategic locations when you'll want to be able to respawn and get right back in the action. You can name them by right clicking on them.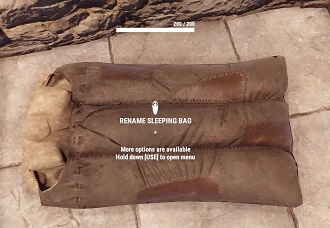 9: This is a good time to craft a Hammer. It's used to Upgrade your structure. Use it by equipping it on the hotbar and then walking up to a wall/floor/etc. and right clicking. It'll bring up a menu which you can use to upgrade your building component to wood, stone, metal, or armored. Stone seems to be good enough for a good start. Definitely don't leave the structure made out of sticks, it needs at least SOME upgrading.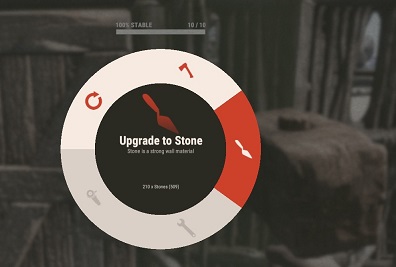 10: Make sure you put a lock on your door. A Code Lock is best of course, but to start out all you can make is a Wooden Lock. Craft that, install it on your door, and right click while targetting it to make a key and lock it. I'd advise you to also craft a Stash in which to hide the key so that WHEN, not IF, you're killed and looted you don't lose the key. The Stash can be crafted then hidden in the ground nearby. Just don't forget where it is, because when you hide it, it's completely invisible. You'll need to know exactly where it is to bring it back up again. You may even want to craft the Stash earlier to use it while you save materials for the house.
11: Now I'd craft a Furnace using materials you've gathered from animals and the landscape and place it in your house. Start smelting metal and sulphur. You'll need both for sure. Metal being more important at this stage. Also craft some wooden chests to store your supplies.

12: Now just keep gathering materials to upgrade and fortify your house/base. While running around bash any barrels that you find and look in any boxes of bottles/food on the ground you come across. Thats where you'll find items and Blueprint Fragments, which are used to learn new crafting recipes. 20 will learn you a basic recipe, combine 60 into a Blueprint Page for higher level recipes, and you can combine those into even higher recipes, etc.
You'll find barrels and boxes along the sides of roads and a concentration of them in "Rad Towns" and other landmark sites. Those areas are of course heavily populated and often camped by players just wanting to kill you. Don't go to them with anything you can't stand losing.
Remember, you WILL die. A LOT. It really doesn't matter as long as you have your base and items stored inside. Gather ~1000 wood or stone, and deposit into the house or your stash. Rinse and repeat. When you die, respawn back in your house using your sleeping bag and continue gathering and building. It helps to have another sleeping bag near your house just in case someone gets in and destroys the one inside. Either that or do what I did and create a "safe room" inside the house that only houses the sleeping bag and maybe some essential supplies. Just as a backup plan.
Upgrade the house as you can afford to. Stronger door, a code lock, stone walls/floors, etc. Expand it if you'd like. Try to keep it secure. No windows on the ground floor, they just make it way too easy to random players to climb in and rob you, or kill you while you're standing inside. Maybe even double doors (One front door, then a second just inside that one) so that if you die with your door open the second is still closed and looters can't get in. Walk in one, close it, then walk in the other and close it.
If/when you get looted it'll hurt, but it's not the end of the world. Just gotta start gathering again. Just try to make your base as secure as possible to deter looters.
In the end I'll say that it's a great concept for a game. It's got a very active development team from the looks of things and it's always improving. I'm definitely hooked and see a bright future for Rust.