Introduction
With the coming release of the XP system, I wanted to create a guide to help people understand the system and know what to expect as they play. This guide is definitely a work in progress and will be updated as things change.
Keep in mind that this is the first step in the new system and there are other elements coming as the developers continue to work on the mechanics of the system and balance it all out.
UI Changes
One of the most noticeable, and potentially frustrating, changes initially is the way the UI functions. The Inventory Screen (accessed with the tab key) and the Crafting Screen (accessed with the Q key) are separate of each other. The change was implemented to accommodate the different categories for craftable items and the new method for unlocking blueprints.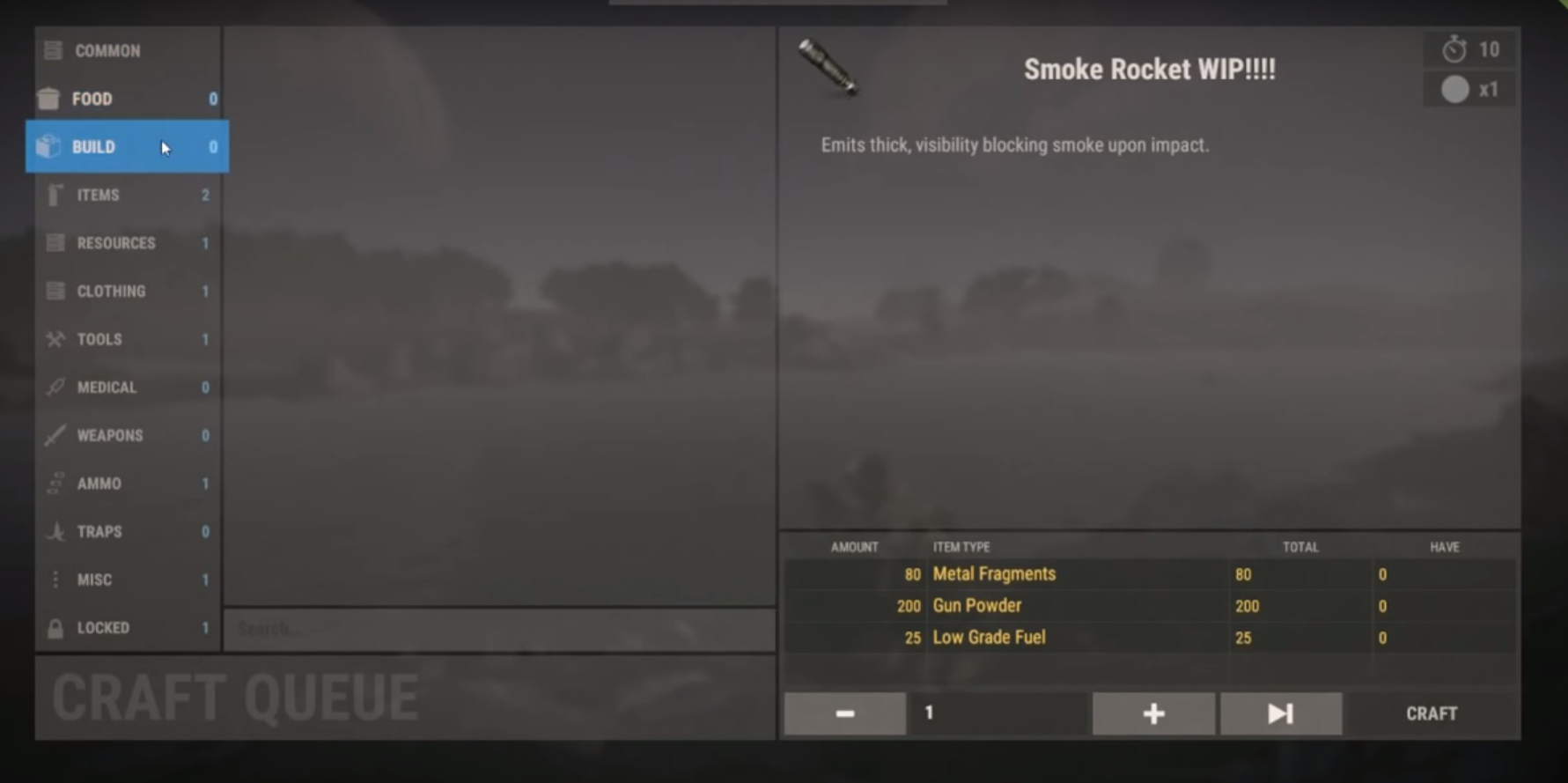 You can toggle between the screens with TAB (inventory) and Q (crafting).
How to Gain XP
There are now several ways to gain XP:
1. Fishing
2. Gutting Fish
3. Gathering Resources (Chopping trees or mining rocks)
4. Gathering Resource Nodes
5. Crafting Items
6. Looting Barrels/Smashing Barrels
7. Hunting (kill and harvest animals)
8. Feeding people
9. Destorying Helicopters
Give tools/food to other people and get some XP as they use or eat your stuff. Please read up on ownership and tool sharing so you know how XP gain works.
Ownership and Tool Sharing
Do you like to help n00bs when they first get in game or on your server? Now you have another reason to do it (other than feeling good about life)… XP! That's right, if you give another player tools so they can harvest the resources they need, you will earn XP for each time they use the gear. Just to be clear you
DO NOT
get a share of the resources they collect, just the XP at this time.
Here's how it works (if you don't care, then skip this section): Long story short, when you help people by giving them stuff you will end up earning little trickles of XP when they perform actions with what you gave them, and if those people help others you'll get a piece of that too, pyramid scheme style.
Let's say Recon gives Shisui a pick axe. When that pick axe is used to generate XP in some fashion, that XP will be split up according to the ownership of the tool. So let's say a rock gives you 1 XP every time you hit it (not real in game numbers, just makes the math easier because I suck at math), and Shisui is using the tool he got from Recon, Recon would get 0.2 XP per hit with the pick axe.
The best part is, if someone is using your tools to gain XP when you are offline, you still get XP – no need to be online!
Who Owns What?
Remember this simple rule,
If you craft it, You own it.
Doesn't matter where your materials came from – If you craft it, you own it 100% and get 100% of the XP. Now, if you give that tool to someone else and they harvest with it you gain 20% of any XP that they earn.
You can tell who owns an item by checking the inventory screen. Under the name of the item there is a little bar that tells you who owns it. If it is you, then you get 100% of the XP. If it is someone else, they will get 20% of the XP that you earn.

Feed the Hungry
Another great way to earn some XP and feel good about life is to give food to those in need. Anytime a player eats food that you have cooked you gain XP. This also goes for any junk food that you find around the map.
Resource Ownership
In addition to tools and items having an owner, resources that you gather also have an owner. At this time resource ownership doesn't mean a whole lot because whoever crafts an item, owns it, but this mechanic will provide some interesting insights into raiding/looting. You can see in the image below that DUDV2 used an axe crafted by KOBALT, so in theory KOBALT owns 50% of the wood gathered.

Blueprints and Leveling
Certain blueprints will be available to you from the beginning, but instead of finding bp fragments and studying blueprints through loot drops and research tables, you will unlock new blueprints as you increase levels.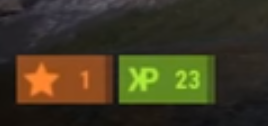 How does it all work? As you harvest resources, you will gain XP points (green box) that can be spent on new blueprints in the crafting menu. The total XP points you have to spend is shown in the green box in the bottom left corner of your screen. Each blueprint requires you to spend a specific number of XP Points in order to be granted access to it in the crafting screens. For example, to unlock the Stone Pick Axe you need to spend 1 XP. If you wanted to unlock the spear it would cost you 2XP.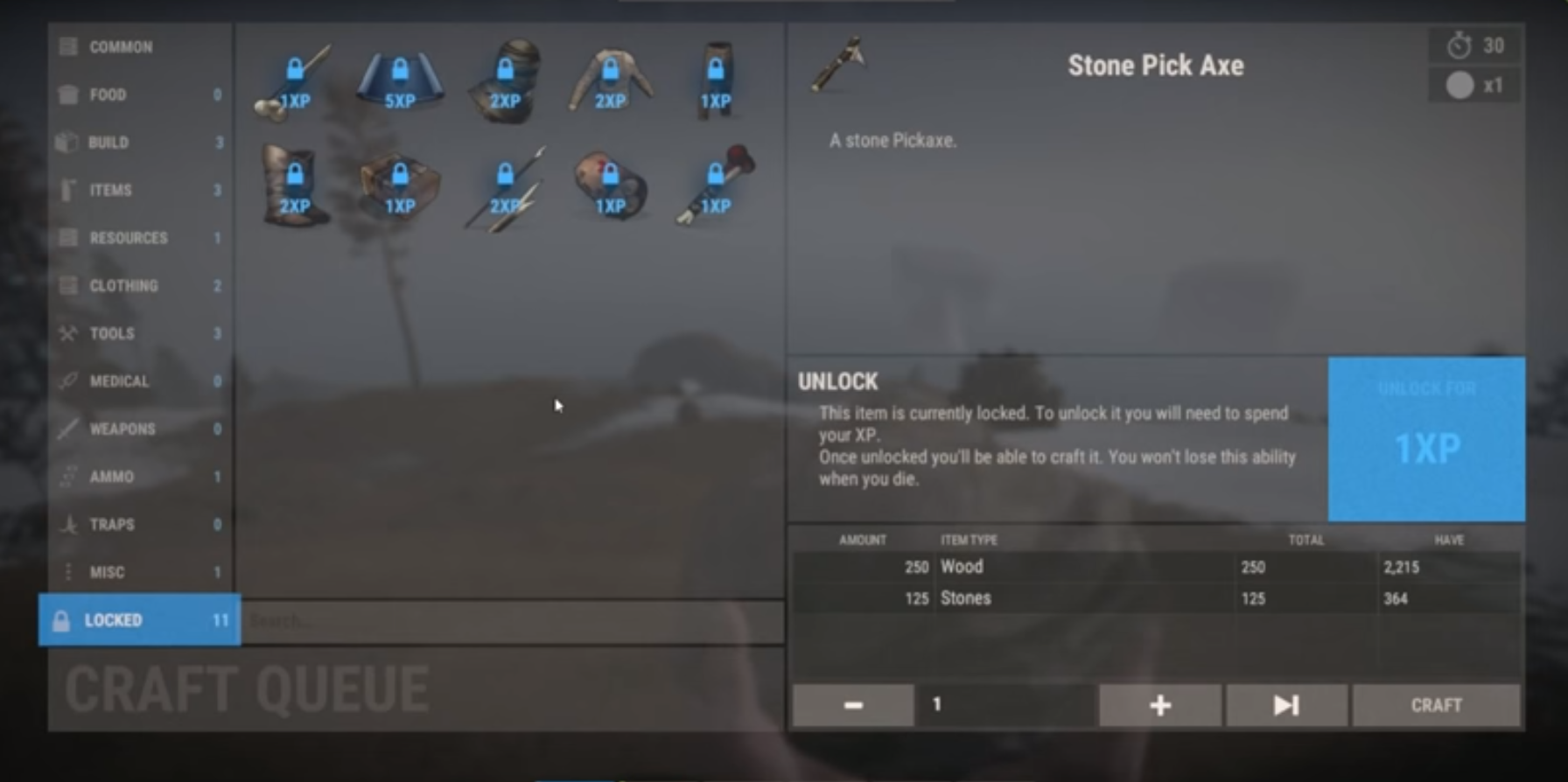 As you harvest, you will also gain Character Levels (the orange box). Your character level determines what blueprints you have the ability to unlock and you have to raise this level if you want access to higher level items/blueprints. This will take some time and may be frustrating for those that can't invest the time to level your player character (or don't want to spend the time). Grouping with other gamers will become important as you level your characters, especially as the map progresses each month.

Level 1 – We all start here
Please note that as of launch on 7/7 the amount of XP needed for each item is no longer current. I will update as time permits.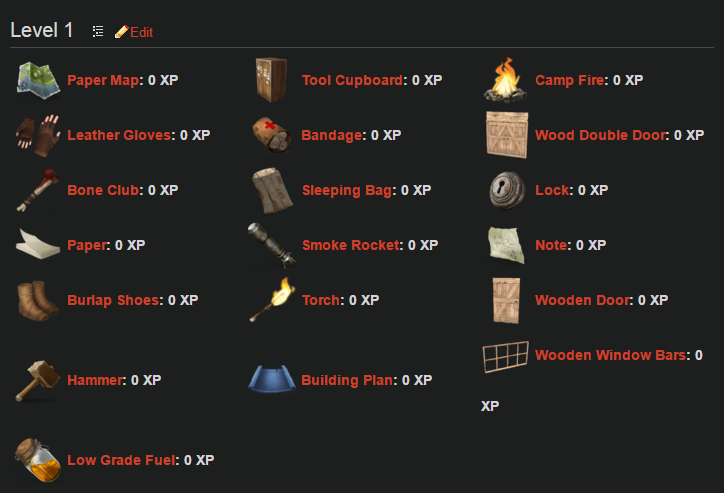 Acknowledgments
THANKS to the folks maintaining the Rust Wiki for the tech tree images! They did all the work and should get all the credit on those.
Please RATE and SHARE if you found this guide helpful.